About the UCI Health Strategic Plan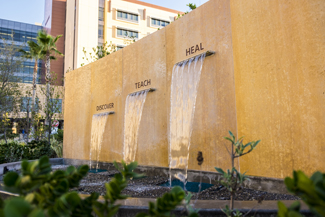 UCI Health initiated its strategic planning process in fall 2015 to strengthen our distinction as a top academic medical institution in an era when the healthcare industry as a whole is facing dynamic change.
First we reviewed and affirmed our purpose and mission — Discover. Teach. Heal. — which defines the unique value we provide to our community as Orange County's only academic medical center. Next, our planning committees, which had broad representation from across our institution, established a new vision for UCI Health. This bold vision builds on our organization's values and defines our future. It is:
Powered by discovery and innovation, UCI Health will advance individual and population health.
This vision embodies our unique capability as an academic medical center to create and impart knowledge in ways that improve the health of each individual as well as the populations we serve. The ability to discover and innovate is the engine that will drive our success and that set us apart from other health providers.
The planning process also identified the five aspirations below to provide areas of focus, and position UCI Health for long-term success.
Research Distinction — Achieve distinction across basic, translational, clinical and outcomes research
Innovative Education — Educate the next generation of healthcare leaders through innovative learning
Patient Care Excellence — Provide excellent clinical care and an exceptional experience
Complex Care Leader — Be the region's top destination for complex care
Population Health Manager — Become a leader in population health management
These aspirations are rooted in the existing strengths of UCI Health, as well as in areas where we have unique opportunities to assert and distinguish our organization, both locally and internationally. We will accomplish this by aligning clinical, research and education strategies across our health system.
More than 200 internal and external constituents were engaged in the strategic planning process, and more than 100 individuals participated on committees or were interviewed. Feedback from university leadership, the community and our external partners and affiliates have also been incorporated into the plan's development.
Development of the Strategic Plan
During the development of the UCI Health Strategic Plan, we sought broad representation and input from many internal and external stakeholders. To ensure a broad range of perspectives were captured across UCI Health, we created:
An 18-member Executive Strategic Plan Development Committee to oversee the planning process and development of the plan.
An Advisory Group — expanded to add representatives from the university campus, external organizations and health sciences — that held three retreats (kick-off, midpoint review and conclusion) to provide input throughout the plan's development.
Three mission area-specific committees (approximately 30 members each) to recommend goals and prioritize strategies. Committees included experts from all three mission areas, as well as representatives of the School of Nursing and the future schools of pharmaceutical sciences and public health to stimulate synergies and collaborative strategies.
Additional sub-committees and focus groups (i.e. students, staff, etc.) to collect feedback and identify initiatives and tactics to develop complex strategies.
Strategic Plan Executive Committee members
A Strategic Plan Executive Committee was formed in fall 2016 to provide overall oversight of the plan's implementation.
Rick Gannotta — Chief Executive Officer (co-chair)
Michael J. Stamos, MD — Dean, School of Medicine (co-chair)
Geoffrey Abbott, PhD — COHS Academic Senate Chair and Professor, Physiology & Biophysics
Nasim Afsar, MD, MBA – Chief Ambulatory Officer
Rebecca Brusuelas-James — Associate Vice Chancellor and Chief of Staff
Dan Cooper, MD — Associate Vice Chancellor and Professor of Clinical and Translational Research
Alan L. Goldin, MD, PhD – Interim Vice Chancellor of Health Affairs
John E. Gross, MD, FACS – Vice Dean of Clinical Affairs
Brian Hervey – Vice Chancellor for University Advancement
Francine Jeffrey, MS – Associate Dean of Administration
Khanh-Van Le-Bucklin, MD — Senior Associate Dean, Medical Education
Terrance R. Mayes, EdD — Associate Vice Chancellor of Diversity and Inclusion, Chief Diversity Officer
Pat Patton, RN — Chief Nursing Officer
Suzanne B. Sandmeyer, PhD — Senior Associate Dean, Research and Professor, Biological Chemistry
Jay Sial — Chief Financial Officer
Leslie Thompson, PhD — Professor, Biological Chemistry, Psychiatry and Human Behavior, and Neurobiology and Behavior
William C. Wilson, MD — Chief Medical Officer
Measuring progress
To ensure successful execution of the UCI Health Strategic Plan, progress will be measured annually for metrics tied to each aspiration. 18-month and five-year targets have been established for each metric to track our success toward achieving each aspiration. The plan detailed on this website reflects UCI Health's commitment to advancing research, education and clinical care, and furthering excellence in each.
Learn more about our Mission, Vision and Values ›